Today we have a guest post from Steve Paskoff, CEO of ELI.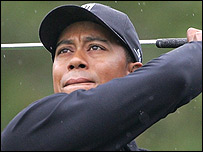 Today is my birthday, so I have asked my client Steve Paskoff, CEO of ELI, Inc. to share some of his wisdom about the importance of leadership behavior in creating a winning business model. ELI offers its clients a foundational learning platform (training products, manager tools, informal learning opportunities) built on laws and behaviors for civil treatment that enhances organizational performance.
Steve's choice of Tiger Woods as an example is a compelling one. It shows how transparent our world has become and why leaders' actions, not just their words, will increasingly drive how their companies are perceived. Internal employees have always judged their employer by leadership actions, not words. With the internet and instant communications, the outside world now has a window into all of our organizations.
From Steve:
Tiger Woods has been the premier sports brand for the past several years. We've wanted our businesses to perform like he plays golf, our kids to behave the way he acts, and our commitment and intensity to approach his impossible standards. Ultimately, his corporate message has been to trust what he endorses and buy accordingly. Maybe if we do, in some small way we can all be like Tiger.
That's all changed. His reputation as a golfer remains intact, but his personal credibility, a key to his phenomenal business success, has foundered. Now he's fodder for jokes rather than a model to emulate or a person to trust. From what we know, he broke no criminal laws. However, aside from committing a criminal act that would have subjected him to prison time, there is no legal penalty he could suffer that will prove greater than that which he will receive at the hands of his betrayed family and the public. One moment Tiger was a hero and the ultimate role model; the next, a bounteous resource for comic relief and anger. For a long time to come, Tiger Woods' name will conjure up memories of his athletic accomplishments linked with his personal misdeeds. The latter will tarnish what should have been the pure genius and excellence of the former.
Organizations building their own brands should remember this painful lesson: Compliance with the law is necessary and important, but brands and business can be quickly destroyed by behavior that conflicts with their messages and stated values, whether that conduct is legal or not. The more an organization preaches values of honesty and integrity, the more powerful will be the effect when their contrary daily behavior surfaces.